Mr. Dirk Mecke - Culinary Director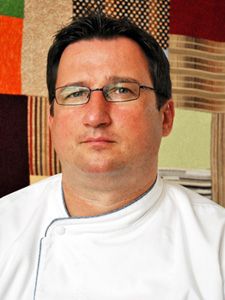 Mr. Dirk Mecke, a German native is based on his 20 years' experience in the F&B Industry. Dirk career path started in the middle 80's, early 90's when starting with doing his apprenticeship in the baker field and after in cooking with certificates. He worked for the German government for long time. On completion of a Master Chef exam at the Chamber of Dortmund, Dirk went for a further step in the hotel industry.

After nearly 10 years working for the German government as an Executive Chef he returned to the Hotel Industry where he held positions as Executive Sous Chef in Germany and Spain before stepping up to Executive Chef in countries such Germany, Egypt and Azerbaijan. Dirk worked for prestigious properties including Great Hotels of the World, Leading Hotels of the World, as well as for the Intercontinental hotel chain.

Dirk is happily married to his wife Sonja, a German native and they have a 7 year old daughter named Emma and a son named Laurenz who is 4 years old. Dirk enjoys spending time with his family as well as doing all kind of sports such as Biking, Swimming and Fitness. Besides that, Dirk is very interested in all kind of Food as well as History.

Dirk speaks German and English fluent as well as has some knowledge of Spanish.

Career Highlights
Apprenticeship Baker and Cook with certificate
Certificate train the trainee
Master chef exam
Hotel industry start at Hotel Adlon, (Kempinski) Berlin Germany
Sous Chef Banquet &Events up to 5000 Pax Hotel Intercontinental, Berlin Germany.
Executive Chef of Red Sea Hotels 550 rooms, Hurghada Egypt
Executive Culinary Director at the Reinhards, Kempinski Bristol, Berlin Germany
Culinary Director for "The Landmark Hotel Baku", Azerbaijan. 8 themed outlets which included concept, planning, construction, opening and commissioning.
Event Management such as "Berlin Aids Gala", "Black and White Balls", " Berlin Bundespresseball", "Open Air Concerts", Banquets &Conferences and others for up to 5000 guests.
Organizing Country National Days for Embassies such Switzerland, United Kingdom, United States of America, Germany, Austria and others.
Organized Banquets and Dinners for guests like Boris Becker, Queen Elizabeth, Gerhard Schroeder and many more from Politics, Sports and International Showbiz.
Several project management assignments executed ranging from Restaurant Concepts to Hotel Projects, in Europe.
To contact Dirk please write to info@hospitality-solutions.org.